Dr. Z's Vitamins – Stress Buster
Premium Stress Relief Supplement with Professionally Blended 17 natural ingredients in the optimal amounts – Stress Relief, Energy, Focus, Anti-Anxiety, Mood, Immune System, Adrenal &Thyroid Support – 90 Veggie Capsules
STRESS BUSTER MAY HELP RELIEF FROM STRESS, FATIGUE AND ANXIETY: Stress Buster now comes with new premium stress relief formula consisting of 17 natural ingredients in the optimal amounts. In addition to Ashwagandha, Holy Basil, now it also contains Rhodiola, Bacopa, L. Theanine, Lemon Balm, Passion flower Hawthorne flower, Hops flower, Bioperine, B vitamins, Magnesium and Zinc. This carefully blended natural formula helps relief from stress, fatigue, and occasional anxiety.
STRESS BUSTER IS AN ADAPTOGENIC BLEND: Ashwagandha, Holy Basil, Rhodiola and Bacopa are known Adaptogens – protect your body against stress. Ashwagandha has been used for over 3,000 years to relieve stress, increase energy and improve concentration.* Holy Basil helps with anxiety and stress.* Rhodiola helps to reduce fatigue and 'burnout' from stress and anxiety.* Rhodiola and Bacopa appear to increase the levels of serotonin – key hormone for positive mood, sense of well-being and happiness.*
STRESS BUSTER MAY HELP RELAXATION, FOCUS AND COGNITION: Theanine is a natural amino acid that enhances relaxation, focus, and creativity without sedation. Lemon balm has traditionally been used to improve mood and cognition. Along with Hawthorne it may also help  relieve stress and reduce anxiety. *
Passion flower and Hops flower may help relief from nervousness, irritability and sleep problems.
B vitamins, along with Magnesium and Zinc are important for energy, brain health and immune system health. Magnesium helps with restful sleep.*
STRESS BUSTER IS OF THE HIGHEST QUALITY: Dr. Z's Vitamins prides in delivering the Highest Quality Vitamins and Supplements – Sourced from a GMP-Certified and FDA-Registered Facility in the USA.
MONEY BACK GUARANTEE: We Care About Your Experience. So, We Offer Money Back Guarantee! Get Full Refund If You Are Not Satisfied. Simply Return the Product Within 30 Days of the Purchase.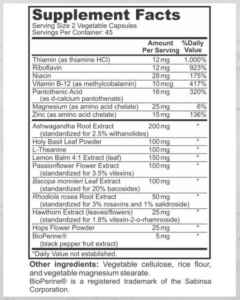 *These statements have not been evaluated by the Food And Drug Administration. This product is not intended to diagnose, treat, cure or prevent any disease.