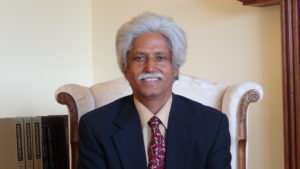 Meet Dr.Zaidi, Sarfraz MD is a leading Endocrinologist in the USA. He is a medical expert on thyroid, diabetes, vitamin D, and stress management. He is the director of the Jamila Diabetes and Endocrine Medical Center in Thousand Oaks, California. He is a former assistant Clinical Professor of Medicine at UCLA.
Dr.Zaidi's Academic Career
Residency in Internal Medicine at Wayne State University, Detroit, Michigan
Former Assistant Director , Cardiac Care Unit, Grace hospital, Detroit, Michigan
Former Clinical Instructor, Wayne State University, Detroit, Michigan
Fellowship in Endocrinology, Diabetes And Metabolism at UCLA, Los Angeles, California
Former Assistant Clinical Professor of Medicine, UCLA, Los Angeles, California
Dr.Zaidi's Professional Memberships:
In 1997, Dr. Zaidi was inducted as a Fellow to the American College of Physicians (FACP). In 1999, he was honored to be a Fellow of the American College of Endocrinology (FACE).
Dr.Zaidi's Books and Articles:
Dr. Zaidi loves to spread his pearls of clinical wisdom through his writings. He is a prolific writer and has authored these books:"Reverse Your Type 2 Diabetes Scientifically", "Power of Vitamin D", "Stress Cure Now", "Graves' Disease And Hyperthyroidism", "Hypothyroidism And Hashimoto's Thyroiditis", "Stress Management for Teenagers, Parents and Teenagers", "Take Charge of Your Diabetes",  "Wake Up While You Can" and "You Are Not Who You Think you are.".  In addition, he has authored numerous articles in prestigious medical journals.
All of his books are available at Amazon.com, Kindle.com and Audible.com
Dr.Zaidi – A Public Speaker
Dr. Zaidi has been a guest speaker at medical conferences and also frequently lectures the public. He has been interviewed on TV, newspapers and national magazines.
Dr.Zaidi on the Internet
Dr.Zaidi's website: www.DoctorZaidi.com, which has over 107 pages. It provides an in-depth, scholarly articles on all of the endocrine and diabetes topics.
He has done educational YouTube videos about:
1.Vitamin D
https://www.youtube.com/watch?v=mLMM8d0LrNA
Insulin resistance, diabetes and heart disease
https://www.youtube.com/watch?v=eYkMZKKmcBA
Management of the stress of daily Living
Search Dr.Zaidi's Articles
Search High Quality Vitamins
Dr. Zaidi's Vitamins Categories